DESCRIPTION
Best Practice in Planning DE&I Interventions
The third course in a series of four is called Best Practices in Planning DE&I Interventions. This course provides a detailed, step-by-step guide to planning and executing diversity initiatives. The course covers recruitment, retention, and training, and addresses common challenges such as how to handle situations where your organization does not have DE&I infrastructure. Additionally, it explores how to apply the foundational concepts of DE&I to real-world situations and achieve desired outcomes.
You will be able to:
Identify obstacles in DE&I strategic planning and establish an effective approach to reach your DE&I objectives.
Describe effective ways to recruit more diverse talent by adopting a DE&I recruitment process that is intentional and adheres to legal requirements.
Create and implement new initiatives within the DE&I retention program to improve employee retention rates.
Develop strategies to overcome common challenges in implementing DE&I training and provide comprehensive support for a successful training program.
LECTURE SAMPLES
Explore our related DE&I Courses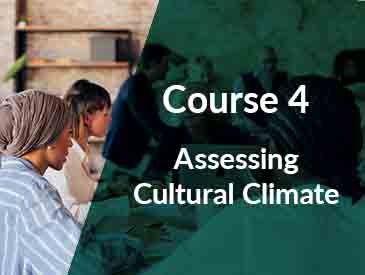 Assessing Cultural Climate (Course 4)
LEARN MORE
CONTACT
Any questions? Please e-mail riceonline@rice.edu