DESCRIPTION
Learn the Meaning of DE&I and Key Definitions
The introductory course in our four-course series, Defining Diversity, Equity, and Inclusion in Organizations, provides a comprehensive overview of the fundamental concepts of diversity, equity, and inclusion. The DE&I training course also covers why these efforts sometimes fall short and explains the elements that make the case for diversity. Additionally, we will explore the concept of DE&I maturation, which allows learners to assess their organization's activities and determine its place on the DE&I continuum.
You will be able to:
Provide a common understanding of the terms diversity, equity, and inclusion and how they can be effectively implemented into an organization.
Gain insight into how changes in your demographics can affect your organization and explore different reasons why diversity is beneficial to your organization's success.
Identify different levels of diversity on the DE&I continuum and evaluate where your organization stands.
Identify challenges that arise when implementing DE&I initiatives and apply strategies to avoid common pitfalls that can lead to unsuccessful diversity efforts.
LECTURE SAMPLES
Explore our related DE&I Courses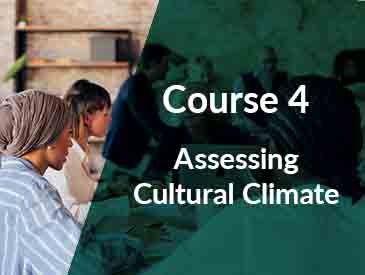 Assessing Cultural Climate (Course 4)
LEARN MORE
CONTACT
Any questions? Please e-mail riceonline@rice.edu